Summer vacation is here, which means that I have lots of time to read grown-up books ... but I still keep up on new releases to plan for Mock Caldecott, Mock Newbery, and our general collection wish list. Here are some of the ones I liked the most from the past month. All book covers and plot summaries are from
Goodreads
:
Picture books
Using just nine words, the award-winning creator of Chalk takes readers on another unforgettable journey. When three children discover a typewriter on a carousel, they are transported on an adventure of their own creation—complete with a giant beach ball and a threatening crab. Stunning, richly colored artwork is paired with limited text so children can tell their own version of the story.
Early Readers
Something is going on in the forest: one of the animals is saying nasty things about the other forest creatures. But no one dares make a statement to the police. Who is the culprit?
Detective Gordon and his assistant Buffy must investigate! But this is a complicated case. The two police officers split the workload: Buffy questions the suspects, while Gordon stays in bed to think.
Nonfiction
Beginning in 1922, when Edith Houghton was only ten years old, she tried out for a women's professional baseball team, the Philadelphia Bobbies. Though she was the smallest on the field, soon reporters were talking about "The Kid" and her incredible skill, and crowds were packing the stands to see her play. Her story reminds us that baseball has never been about just men and boys. Baseball is also about talented girls willing to work hard to play any way they can.
Middle Grades
Charlie feels like she's always coming in last. From her Mom's new job to her sister's life at college, everything seems more important than Charlie. Then one day while ice fishing, Charlie makes a discovery that will change everything . . . in the form of a floppy fish offering to grant a wish in exchange for freedom. Charlie can't believe her luck but soon realizes that this fish has a very odd way of granting wishes as even her best intentions go awry. But when her family faces a challenge bigger than any they've ever experienced, Charlie wonders if some things might be too important to risk on a wish fish.
Young Adult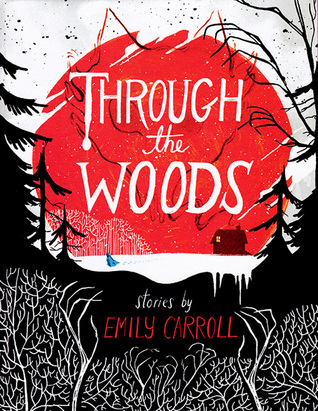 Five mysterious, spine-tingling stories follow journeys into (and out of?) the eerie abyss.
These chilling tales spring from the macabre imagination of acclaimed and award-winning comic creator Emily Carroll.
Come take a walk in the woods and see what awaits you there...
NOTE: Graphic novel format and RITBA nominee
Stealing is bad.
Yeah.
I know.
But my brother Levi is always so sick, and his medicine is always so expensive.

I didn't think anyone would notice,
if I took that credit card,
if, in one stolen second,
I bought Levi's medicine.

But someone did notice.
Now I have to prove I'm not a delinquent, I'm not a total bonehead.

That one quick second turned into
juvie
a judge
a year of house arrest,
a year of this court-ordered journal,
a year to avoid messing up
and being sent back to juvie
so fast my head will spin.

It's only 1 year.
Only 52 weeks.
Only 365 days.
Only 8,760 hours.
Only 525,600 minutes.

What could go wrong?
NOTE: RITBA nominee