I am plowing through my to-be-read piles, with dozens of books still on hold at the library. Here are some of the ones I liked the most from the past two weeks. All book covers and plot summaries are from
Goodreads
:
Picture books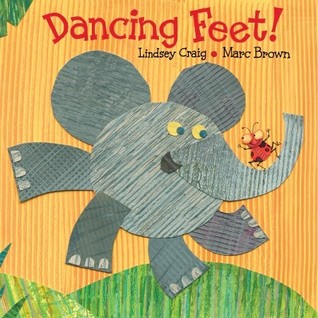 Lindsey Craig's rollicking text features funny sound words (Tippity! Creepity! Stompity! Thumpity!), dancing animals, a singsong beat, and a guessing element just easy enough for preschoolers to anticipate. Marc Brown's artwork is bright, textured, and joyful, a collage of simple shapes for kids to find and name.
So grab a partner and tap your feet to this read-aloud picture-book treat. (NOTE: Will be using with PreK)
On a rainy day, Frank's parents take him to the shelter to get a new dog. Exploring their neighborhood teaches them about biology: Lucky learns all about squirrels, deer, and—unfortunately for Frank—skunks. Sharing a bed teaches them about fractions—what happens when one dog takes up three-quarters of the bed, or even the whole thing? They even learn different languages: Frank makes a friend who speaks Spanish and Lucky tries to learn Duck! (NOTE: Will be using with Grade 2)
Bruce the bear likes to keep to himself. That, and eat eggs. But when his hard-boiled goose eggs turn out to be real, live goslings, he starts to lose his appetite. And even worse, the goslings are convinced he's their mother. Bruce tries to get the geese to go south, but he can't seem to rid himself of his new companions. What's a bear to do?
Just when a little girl thinks she could not possibly be more bored, she stumbles upon a potato who turns the tables on her by declaring that children are boring. But this girl is not going to let a vegetable tell her what is what, so she sets out to show the unimpressed potato all the amazing things kids can do. Too bad the potato is anything but interested.
This tongue-in-cheek twist on a familiar topic is filled with comedian Michael Ian Black's trademark dry wit, accompanied by charismatic illustrations from newcomer Debbie Ridpath Ohi.
Middle Grades
Fourth grade is not going at all how Benny Barrows hoped. He hasn't found a new best friend. He's still not a great bike rider—even though his brother George, who's autistic, can do tricks. And worst of all, he worries his dad's recent accident might be all his fault. Benny tries to take his mom's advice and focus on helping others, and to take things one step at a time. But when his dad ends up in the hospital again, Benny doesn't know how he and his family will overcome all the bad luck that life has thrown their way.
Genie's summer is full of surprises. The first is that he and his big brother, Ernie, are leaving Brooklyn for the very first time to spend the summer with their grandparents all the way in Virginia—in the COUNTRY! The second surprise comes when Genie figures out that their grandfather is blind. .. [On Ernie's] fourteenth birthday, Grandpop says to become a man, you have to learn how to shoot a gun. Genie thinks that is AWESOME until he realizes Ernie has no interest in learning how to shoot. None. Nada. Dumbfounded by Ernie's reluctance, Genie is left to wonder—is bravery and becoming a man only about proving something, or is it just as important to own up to what you won't do?